Redskin Boys and Girls Win Regionals
KSCB News - October 24, 2011 6:26 am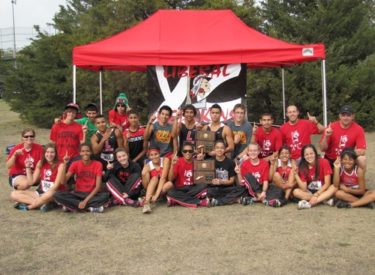 The Redskin Cross Country teams competed in their regional cross country meet Saturday in Newton. The Redskins went into the meet looking to qualify both teams to the State meet for the first time since 2003; not only was their goal accomplished but both teams finished the day with Regional Championships.
The Lady Skins went into the meet not ranked in the state while their race hosted 5 teams with State Rankings. Valley Center and Great Bend were the expected contenders for the team title, but the Lady Skins had other plans. Jr. Destyni Lucero led the pack with a 4th place finish, and All-Regional honors. SO. Mercy Perez finished in 11th place, FR. Alexandria Chandler placed 13th, SO. McKenzie Wright 15th, FR. Janette Borunda 18th, SO. Kim Francis 35th, and FR. Vanny Deleon 47th. Six of the seven runners ran their best times of the season to help clinch Liberals first regional championship since 2002. Liberal won with 61 points, Valley Center 64, and Great Bend 76 points.
The boys cross country team started Saturday ranked 4th in the state. The Redskins had four runners get All-Regional honors. Sophomore standout Angel Viveros continued his impressive run after winning the WAC meet a week ago with another victory. Vivero's ran a great race crossing the line an impressive 26 seconds ahead of the next runner. The other All-Regional runners were SR. Fidel Munoz 5th place, SR. Eric Minjarez 6th place, and JR. Daniel Frazier 8th place. The other Redskin runners were Obed Quintana finished in 22nd place, Marco Espinoza 27th place, Ricardo Bustos 31st place. Liberal won their first regional championship since 1999, with 42 points, Great Bend was second with 60, and Hays was third with 66 points.
Both Redskin teams will travel to the state meet which is held at Rim Rock Farm at the University of Kansas, Saturday October 29th. The boys will race at 10:30 A.M., and the girls will race at 12:00 P.M.
Boys
1st Angel Viveros – 16.26
5th Fidel Munoz – 17.14
6th Eric Minjarez – 17.20
8th Daniel Frazier – 17.33
22nd Obed Quintana – 18.15
27th Marco Espinoza – 18.25
31st Ricardo Bustos – 18.36
Girls
4th Destyni Lucero – 15.51
11th Mercy Perez – 16.22
13th Alexandria Chandler – 16.29
15th McKenzie Wright – 16.45
18th Janette Borunda – 16.49
35th Kim Francis – 17.58
47th Vanny Deleon – 19.29