Record Corn Crop Likely
KSCB News - August 16, 2010 12:00 am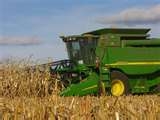 The recent heat wave may have damaged the condition of the state's corn crop, but Kansas farmers are still expected to have the largest corn harvest in the state's history.
The Kansas Agricultural Statistics Service says farmers are expected to harvest 692.2 million bushels, meaning some of the state's elevators could bin more corn than wheat this year.
Corn was cut for silage last week near Turon, about two weeks earlier than usual. Manager Mike Holley says the silage had 62% moisture, about 10% lower than he would prefer.
The Kansas Agricultural Statistics Service reported last week that fall crop conditions continue to decline because of the heat and lack of moisture. The corn crop was rated as 9% poor, 28% fair and 63% good to excellent. About 60% of the soybeans and milo are estimated at good to excellent.