Proceeds From Mike Walker Concert To Help With Panhandle Exposition Costs
KSCB News - August 3, 2010 12:00 am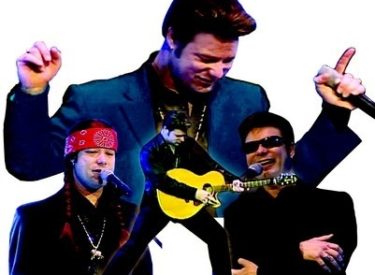 Billed as the grand finale of the 93rd Annual Panhandle Exposition, Mike Walker and Friends, the world ??s greatest singing impressionist, on Saturday, Aug. 14, at 7:30 p.m. at the Guymon High School Auditorium is a fund raiser to help with costs of putting on the fair.
??Proceeds from ticket sales will go to help the Panhandle Exposition and is a community effort with support from the presenting sponsors, Epic PCS, Epic Touch, and attendance sponsors, Tri-County Electric and Mosaic of Liberal, Kan. As an attendance sponsor, Tri-County is giving tickets to any residents of Dunaway Manor who elect to attend the concert. Mosaic is presenting tickets to people in the Liberal area that it provides services to, ? said Mike Shannon, community development director for Epic Touch and Epic PCS.
Mike Walker and Friends is a hit Branson show that will appeal to all ages, according to entertainment critics.
??The title refers to the more than 200 voices Mike Walker has perfected during his distinguished career. Or course, he cannot fit but about 50 of those voices into the two-hour show he plans to do in Guymon, ? said Linda Ward, marketing and advertising director for Epic PCS and Epic Touch.
Walker uses his five-octave range voice to portray performers such as Aaron Neville, Bon Jovi, Conway Twitty, Elvis Presley from the ??50s, ??60s and ??70s, Frankie Vallie, Freddy Fender, George Jones, Guns N ?? Roses, James Brown, Johnny Cash, Journey, Louis Armstrong, Marty Robbins, Michael Bolton, Michael Jackson, Neil Diamond, Ray Charles, Roy Orbison, Sam Cooke, Stevie Wonder, The Marcells, The Platters, The Righteous Brothers, The Temptations and Willie Nelson and characters such as Foghorn Leghorn, Fred Flintstone, George Bush, Kermit the Frog, Larry the Cable Guy, Richard Nixon, Ronald Reagan and Bill Clinton.
??Everyone will just have to come to the concert to see what ??friends ?? get to be on stage with Mike Walker, ? Ward said.
Open seating tickets are available at all three Epic PCS locations: Guymon Northridge Center, Liberal Coronado Plaza and downtown Elkhart, at KGYN Studios, 2300 North Lelia St. in Guymon and the Guymon Chamber of Commerce, 711 E. Highway 3. Cost is $10 for adults and $5 for children ages 5 to 13. For more information call 580-206-5050.
-30-