OPSU Season Tickets Available
KSCB News - July 17, 2015 6:29 am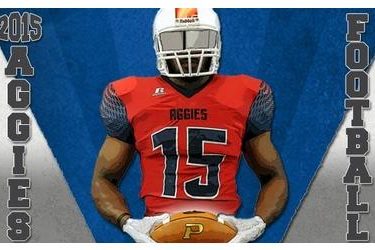 Goodwell, Okla.-Aggie fans are sure to be kept on the edge of their seats
this season as the OPSU Football team looks to take their game to the next
level in 2015! With Select Seating fans can get the best view of Carl Wooten
Field for all four home games.
The comfortable chair-back seating is available for purchase on a seasonal
basis starting at $50 per the first two seats and $25 for each additional
seat thereafter. Seats may be purchased individually, in blocks or full rows
and will be specially labeled for convenience and easy sighting.
The Aggies' home opener brings the heated rivalry of Langston University on
Sept. 19 at 2 p.m.; that morning the OPSU Cheer team will host the Little
Aggies Cheer Camp which will also include a half-time performance at center
field. This year's Homecoming is set for Saturday, Oct. 10 with a 1 p.m.
kick-off against Southwestern University. Texas College comes to town on
Oct. 31 at 2 p.m., and the Aggies will round out their home season with a
Lone Star Conference matchup on Nov. 7 at 2 p.m. (opponent to be
determined); the final home game will include senior recognition and a
pre-game chili cook-off.
To reserve a spot, complete the Select Seating Reservation Form located on
the OPSU Aggie Athletics website (Football page under "2015 TIX") or contact
Russell Gaskamp at 580.349.1332 or by email at [email protected].
Bring the noise in 2015 and let's pack the stands with Aggie fans! WEAR RED,
GET ROWDY & REV IT UP!
###
Justine Gaskamp