OPSU Men's Rodeo Team Wins National Title
Joe Denoyer - June 20, 2017 12:15 pm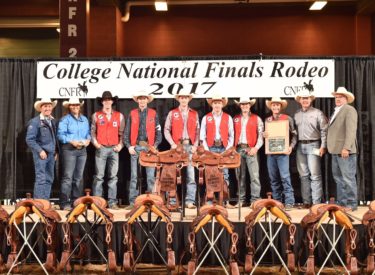 GOODWELL, OKLAHOMA – The Oklahoma Panhandle State University men's rodeo team won the national championship this week at the 2017 College National Finals Rodeo in Casper, Wyoming.  2017 marks the sixth national championship for the Goodwell, Oklahoma team who brought home the top trophy in 2013, 2004, 2000, 1998, and 1997.
"This win is for everyone at the university past, present and future," said Dr. Tim Faltyn, Panhandle State President.  "It takes the entire campus, their family, friends and our community to make these young people so successful.  Our cowboys won with class and grit. This is a win for all involved."
The Aggies took the lead and kept it from the first round to the last.  Bull rider Cody Ballard, a junior from New South Wales, Australia, won the first round in the bull riding which set the pace for the rest of the team.  Plains, Kansas brothers Ben (senior) and Nate Johnsrud (sophomore) split the second round win in the team roping. Queensland, Australia junior Jake Finlay collected valuable team points with a third round win in the saddle bronc riding.  Bareback rider Will Martin, a Zwingle, Iowa junior, was key to the team's title with consistent rides in each round throughout the week. Martin was joined in the bareback riding by Dylan Riggins, Kadoka, South Dakota junior.  Despite consistent rides through the first three rounds, Riggins missed the cut to qualify for the final round. Bull rider Josh Frost, a senior from Randlett, Utah secured a second place finish in the third round in addition to points in the second round to drive the team forward in the hunt for the championship.
Oklahoma Panhandle State University topped the team standings with 827.5 points.  The next closest team was Sam Houston State University with 715 points.
"Our men and women all performed well – every one of them," said Robert Etbauer, Aggie head coach.
The Aggie women's rodeo team had two women in the finals:  barrel racer Melanie Roman, a Golden, Colorado junior and breakaway roper/barrel racer Randi Buchanan, a senior from Reno, Nevada.  Roman placed in the top 20 in the barrel racing. Buchanan qualified for the final round in the breakaway and finished eighth overall.
The College National Finals Rodeo is the best in college rodeo.  The event crowns the National Intercollegiate Rodeo Association champions in saddle bronc riding, bareback riding, bull riding, tie-down roping, steer wrestling, team roping, barrel racing, breakaway roping and goat tying. Over 400 cowboys and cowgirls from over 100 universities and colleges compete in Casper each year.
"Five of the six cowboys on the men's team return next year," noted Assistant Coach Shelbie Weeder.  "We go home strong and hopefully qualify both men and women's teams in 2018 with a hard-working, dedicated team of competitors and coaches."