OPSU Lends Comfort to a Family in Need
KSCB News - September 6, 2013 5:55 am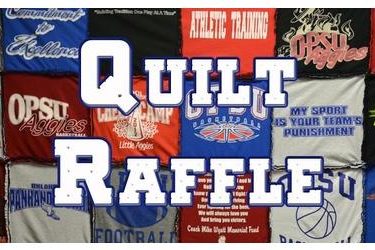 Justine Gaskamp
Goodwell, Okla.-A handmade, Aggie-themed t-shirt quilt will be raffled off
at the first OPSU home football game on Sept. 7 in support of a local
family.
Rowdie Gray, the 4-year old son of Raven Gray and grandson of Mike and Karen
Callsing, had heart surgery on July 25. Since the surgery, Rowdie has been
doing well but is still in need of medical care and requires regular
appointments in Amarillo, Texas with a specialist to monitor his progress.
In an effort to help offset some of Rowdie's medical expenses, OPSU will
raffle off a 7 ft. x 7 ft. very cozy quilt handmade by Barbara Randle. The
quilt is put together from OPSU Aggie t-shirts collected from many willing
donors on campus and will make an excellent dorm comforter, game day
blanket, or all-around favorite blanket in the house for the winning ticket
holder.
A booth will be set up inside the gates of Carl Wooten Field on Saturday,
Sept. 7 prior to the football game with the quilt on display. Tickets will
cost $2 each or 3 for $5 and all proceeds will be given to the family of
Rowdie Gray. One lucky winner will be drawn at halftime.
Come out to the game and support this wonderful cause and the Aggies who are
helping make a difference.
###
Justine Gaskamp