Operation Surprise Nets Several Arrests
KSCB News - March 23, 2011 12:02 pm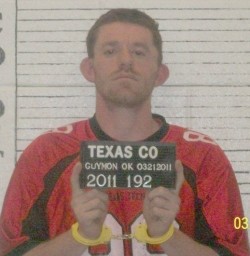 On March 21, 2011, the District 1 Task Force (DATF) obtained twelve arrest warrants from the District Court of Texas County, Oklahoma, for persons engaged in the sale and distribution of controlled dangerous substances (CDS), including marijuana, cocaine, and prescription medications. The arrest warrants in Texas County were obtained as the initial phase of wrapping up "Operation Surprise" conducted under the direction of the DATF. This investigation was initiated in mid-November, 2010, with a deputy from Harper County operating undercover buying CDS.
All twelve of the arrest warrants obtained were served during the afternoon and evening of Monday, March 21, and the following day on March 22. Additional arrests are anticipated. The individuals arrested were Angel Aguirre, Rebecca Payne, Angela Victoria-Lopez, Cody Schaef, Josh Collins, Nathan Stull, Beau Janzen, Winter Dawn Peterson, Ramiro Casas, Heriberto Ortiz, Jr., Tijah Slaughter, James Walwanis and Robert Diaz. In addition, one juvenile was taken into custody. Most of the individuals arrested on warrants were charged with multiple counts of criminal violations related to the sale and distribution of CDS to the undercover deputy. The investigation is ongoing and additional arrests are expected in Texas, Beaver, and Harper Counties, all in District 1 of Oklahoma.
The initial sweep of arrests was conducted by thirty-one law enforcement officers from eleven different law enforcement agencies, including agents from Alcohol, Tobacco, & Firearms (ATF) out of Oklahoma City. In addition to the ATF agents, the other officers were acting under the direction of the DATF. The departments providing officers in the investigation phase of "Operation Surprise" were the sheriffs' offices of Texas, Beaver, and Harper Counties and the Guymon and Goodwell police departments. Officers from each of these departments were joined by officers from ATF, Oklahoma State Bureau of Investigation, Cimarron County Sheriff's office, and the Police departments of Texhoma, Boise City, and Keyes in executing the arrest warrants.