Opening Night of JUCO Football has Local Appeal
KSCB News - August 25, 2011 2:56 pm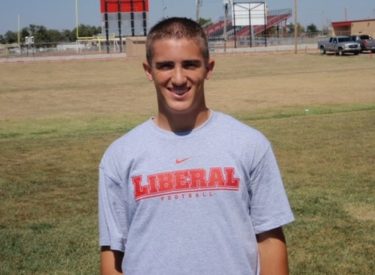 By now you surely know that Seward County doesn't have a football team. But that doesn't mean there isn't some local interest in this weekend's start to the NJCAA football season. Sixth ranked Hutchinson hosts Kilgore, Texas Thursday night at 7 p.m. at Gowans Stadium in the Salt City. Third ranked Butler plays number one Navarro in Texas Thursday night.
Liberal High School graduate Rion Rhoades enters his fourth year as head football coach at Hutch. The Dragons are 24-10 under his guidance. In 2006, Rhoades took Fort Scott from a 22 game losing streak to the KJCCC championship game. Rhoades was an all state linebacker at Liberal High School. He helped Liberal win state in 1992 and finish as the state runner up in 1991. The 1993 LHS graduate played in the 1993 Shrine Bowl.
He is coaching Liberal's all time and single season passing record holder Slader McVey. McVey finished last season with 1,660 passing yards which is second best in LHS history. His junior year in 2009, he had 1,663 yards. McVey amassed 3,602 career passing yards which is the school record. He is the back up quarterback, the holder for extra points and is a kick off return man.
Beaver's Nick Bob Bobek is coming off a championship season as head coach at Navarro. His Bulldogs beat Butler 13-12 last season and he is 32-3 as a head coach at Navarro.
Garden City opens at NEO on Saturday. Liberal Devon Davis plays tight end again for his sophomore season and Liberal's Drew Wills is a freshman linebacker and long snapper. Southwestern Heights James Abla is a freshman tight end while Elkhart's James Kelly and Marcus Irsik both scored in the scrimmage. Stanton County lineman Isiah Anderson and defensive end David Logan are also Broncbusters.
Thur. Aug. 25
Blinn TX #4 at Fort Scott 7:00 –
Kilgore TX at #6 Hutchinson 7:00 –
Butler #3 at #1 Navarro TX 7:00
Sat. Aug 27
Iowa Western #12 at Highland 1:00
Trinity Valley TX #14 at #23 Independence 7:00
Cisco TX #22 at Dodge City 7:00
Garden City at Northeastern Oklahoma 7:00
Coffeyville #15 at Tyler TX 7:00