Oklahoma City Commemorates 15th Anniversary Of Bombing
KSCB News - April 19, 2010 12:00 am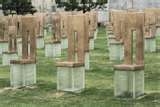 Survivors and family members of those who
died in the bombing of the Oklahoma City federal building will
gather at its former site Monday to commemorate the 15th
anniversary of the deadliest domestic terrorist attack in U.S.
history.
Hundreds of people are expected at the Oklahoma City National
Memorial to remember the 168 people who were killed in the April
19, 1995, explosion at the Alfred P. Murrah Federal Building. More
than 600 others were injured in the attack that caused hundreds of
millions of dollars of damage in parts of downtown Oklahoma City.
U.S. Department of Homeland Security Secretary Janet Napolitano
is scheduled to speak during a ceremony that is scheduled to begin
shortly before 9:02 a.m., the moment when the terrorist bomb was
detonated in 1995.