No Banner Day for Saints
KSCB News - April 30, 2012 2:28 pm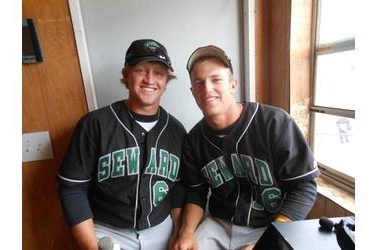 For just the third time in 12 years, the Seward baseball team doesn't win the Jayhawk West championship. The Saints still are the top seed from the Jayhawk West and will host a super regional for the Region 6 Tournament Saturday. Sunday, and Monday at Brent Gould Field. Sunday the Saints split at Colby winning 4-1 and lost 6-4 winning 3 of 4 in the series.
In game one, the Saints scored two in the fifth to take a 2-1 lead when Willie Gustin singled to left to tie the game and Carlos Dorado grounded a single to right to score the lead run. Steven Polito scored a run on a wild pitch in the seventh and Sam Pack singled home a run. Tyler Wiedenfeld (5-4) pitched the distance for the win.
In game two, the Saints let the Trojans off the hook early. Seward scored three in the second thanks to RBI doubles from Sam Pack and Ben Wainwright and an RBI single from Tanner Rainey. After Colby scored one in the second and two in the fifth to tie the game, the Saints plated a run in the sixth when Carlos Dorado blooped a single to right. But the Saints left 11 runner on base the first six innings. Colby's bullpen held the Saints to just one hit the final three innings while the Seward bullpen allowed three runs and five hits in the seventh.
Hutchinson and Garden City share the Jayhawk West title despite losing 3 of 4 to Seward. The Saints won every Jayhawk West series except for a 2-2 series tie at Butler and lost 3 of 4 at division 2 Dodge City.
Seward is 33-23 overall and finishes 22-10 in the conference. Colby is 29-23 overall and 15-17 in the Jayhawk West.
Seward hosts a super regional as the top seed in the Jayhawk West. The Saints host the #8 seed from the Jayhawk East Saturday at 1 p.m. on Talkradio 1270. The #4 team from the Jayhawk East plays Colby at 4 p.m. The losers play Saturday night at 7 p.m. with the winners advancing to Sunday.