New Coach Looks to Continue Texhoma Tradition
KSCB News - August 24, 2010 12:00 am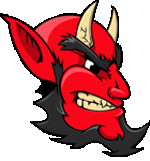 Texhoma was a model of consistency under coach Steve Neptune who led the Red Devils for six seasons. The Red Devils were 7-4 last year after a 7-3 season and are three years removed from a 10-2 district championship season. Reed Box comes in from Hilton where his class A team was 8-3 last season. He has 38 players and 10 seniors out for football and will run a option based offensive attack.
Key Red Devils include: sr. fb/lb Enrique Duran, sr. qb/cb Skyler Rodriguez, sr. ot/de Ryan Dahl, sr. ot/dt Glenn Coffey, and sr. og/ng Edwin Martinez. The Red Devils lost some talented skill players last year like Matt Freeman, Cruz Holguin, and J.D. Pugh. They will lean on their line which calls itself the "Breakfast Club" due to all the pancakes they plan to administer.
Box and several of the Red Devils will be guests on the Sportsguys Tuesday morning between 7:37 and 9 on Talkradio 1270 and kscbnews.net.
2010 Schedule
Sept. 3- Gruver
Sept. 10- at Sunray
Sept. 17- Stratford
Sept. 24- at Beaver
Oct. 1- Mooreland
Oct. 8- at OBA
Oct. 15- Turpin
Oct. 21- at Fairview
Oct. 29- Thomas
Nov. 5- at Hooker