New Coach Leads Skilled Hooker Bulldogs
KSCB News - August 18, 2014 6:40 am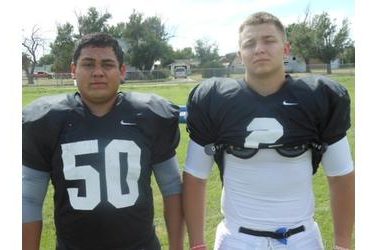 Hooker is skilled this season. New coach Bill Patterson comes in from Bucklin and former coach Jake Kreamer is in Wilson. Patterson says his skill players could have some fun in Hooker's spread offense. Hooker was 5-5 and 6-5 before they dipped back to 2-7 last year with a young team. This year, the Bulldogs are still young but more experienced. They have 30 out for football and return eight starters on both sides of the ball.
They have two seniors and both are expected to contribute. Seniors are RB/OLB Hunter Brown and LG/DE Brandon Gomez. Other key Bulldogs are Jr. WR/OLB Jaden Valles, Jr. QB FS Dayton Metcalf, Jr. WR/S Jon Godfrey, and So. WR/CB Hutton Parsons.
Patterson comes to Hooker after one year as head coach at Bucklin, Kansas. Before that, he was a defensive coordinator at Pratt, Kansas and Newkirk. The Bulldogs will run a spread on offense and a 3-4 on defense.
The Bulldogs will be featured during the Sportsguys Monday morning between 7:37 and 9 on 1270 and kscbnews.net.
Schedule
Sept. 5- at Elkhart
Sept. 12- Hollis
Sept. 19- Syracuse
Sept. 26- at Thomas
Oct. 3- Sayre
Oct. 10- at Mooreland
Oct. 16- Beaver
Oct. 24- at Burns Flat
Oct. 31- Fairview
Nov. 7- at Texhoma (102.7)