Mustangs Memories Intact
KSCB News - August 24, 2011 7:10 am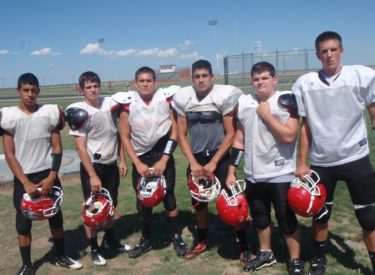 Southwestern Heights second year head football coach Matt Scripsick had a choice after a 1-8 season in 2010, forget it or focus on it. He chose the latter rather than the former and has used last season as motivation. After an opening win at Sublette, the Mustangs lost their last eight. The Mustangs will be an experienced team this fall. They return nine starters on offense and 10 on defense at the 3A school.
Key Mustangs include: junior quarterback, wide receiver, and cornerback Ben Johnsrud; senior wide receiver and cornerback Junior Herrera; senior running back Ruben Chavez; senior lineman Luis Juarez; junior running back and linebacker Rogelio Martinez; sophomore guard and linebacker Saul Sanchez; senior tackle and defensive end Jason Eakes; senior guard Dillon Tradcy; senior quarterback and linebacker Jeffrey Dutton, and senior linebacker Alex Adame.
The Mustang schedule is loaded as you will see below. Their first two games will air on 102.7, The Legend.
The Mustangs will be featured during the Sportsguys Wednesday morning between 7:37 and 9 on Talkradio 1270 and kscbnews.net.
Schedule
Sept. 2- Sublette (102.7)
Sept. 9- at Elkhart (102.7)
Sept. 16- Meade
Sept. 23- Stanton County
Sept. 30- at Holcomb
Oct. 7- at Hugoton
Oct. 14- Scott City
Oct. 21- Cimarron
Oct. 27- at Lakin