Minneapolis Tops Southwestern Heights at State
KSCB News - March 11, 2010 12:00 am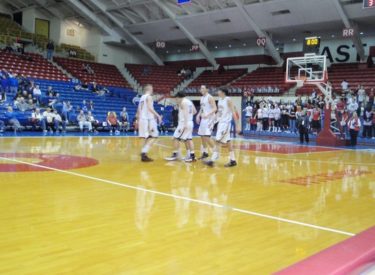 The Southwestern Heights Mustangs boys basketball team fell to Minneapolis 64-47 on Wednesday in Hutchinson as the Mustangs made their first State Tournament appearance since 1992.
The Mustangs got off to a good start leading 15-13 after one quarter. The Lions went on a run in the second quarter though jumping out to a nine point lead and going into the locker room with a 28-22 halftime lead. In the third quarter Minneapolis pushed their lead up to ten, but Heights was able to cut the deficit back down to seven by the end of the third quarter. In the fourth quarter, however, the Mustangs had two of their top three scorers in the game foul out.
Oscar Sigala led Heights with 14 points. Jacob Flores scored nine, while Wes Winfrey and Cory Ryan added seven points apiece.
The Lions shot 55 percent from the field holding the Mustangs to 36 percent from the field. Minneapolis was 20-26 from the field and SWH was 11-19.
Minneapolis improves to 20-4 overall and will play KC-Christian on Friday in the semi-finals at 4:45 p.m. Southwestern Heights finishes the season at 20-4 overall.
State Scores
Boys
Mar 10 Class 3A
Kansas City Christian 44 Galena 41
Minneapolis 64 Southwestern Heights 47
Wichita Collegiate 74 Council Grove 32
Rossville 59 Halstead 58
Mar 10 Class 5A
McPherson 81 Kansas City Washington 56
Topeka West 57 Andover Central 45
Shawnee Mission Bishop Miege 69 Wichita Bishop Carroll 44
Gardner-Edgerton 60 Great Bend 47
Girls
Class 1A
St. John-Hudson 43 Frankfort 32
Argonia 81 Lincoln 50
South Gray 60 Wilson 55
St. Paul 50 Tribune 35
Mar 10 Class 2A
Berean Academy 64 Pittsburg Colgan 53
Olpe 54 Lebo 40
Hill City 46 Valley Heights 40
Osborne 49 Spearville 41
Mar 10 Class 4A
Holton 54 Hesston 44
Cheney 60 Circle 36
Girard 56 Ottawa 50
Concordia 45 Basehor-Linwood 38
Mar 10 Class 6A
Topeka Washburn Rural 76 Maize 44
Wichita Heights 64 Lawrence Free State 45
Olathe South 55 Blue Valley Stilwell 44
Dodge City 50 Shawnee Mission East 41