McGuire Marvels at Regional Cross Country Title
KSCB News - October 25, 2012 12:59 pm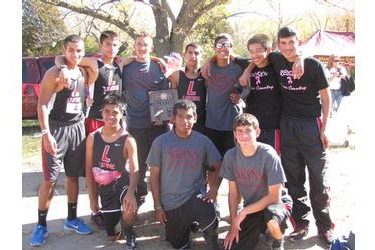 Liberal second year head coach Tyson McGuire says his regional champion cross country team gave what he called "absolutely the gutsiets performance I've ever seen for an entire team." Junior Angel Viveros won the meet Saturday at Great Bend in 16:37 breaking his best time by 27 seconds. Senior Daniel Frazier overcame the flu for fifth. Junior Sammy Obando took sixth. Sophomore Luis Medina took 16th despite running the race with one shoe. Freshman Emilio Tovilla had missed the past two meets with a pulled muscle in his rib cage but placed 29th. Senior Marco Espinoza (31st) and junior Erving Altamirano (43rd) rounded out the scoring. This is Altamirano's first year in cross country after playing football last year. The Redskins competed without injured Obed Quintana who was one of their top runners this season.
Destyni Lucero qualified to state for the girls taking 8th meaning she makes state all four years. Mercy Perez had to get an IV in the hospital days before the meet but took 15th to qualify.
Click on the audio icon to hear coach McGuire.