Loaded Cattle Truck Overturns
KSCB News - August 18, 2010 12:00 am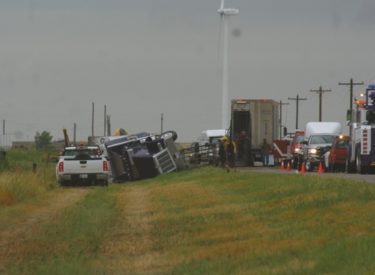 According to a reort in the Guymon Daily Herald,Hwy. 136 was closed for more than seven hours after a loaded cattle truck overturned and struck power-lines Monday morning.
According to Oklahoma Highway Patrol reports, a loaded cattle truck overturned nine miles south of Guymon on Hwy. 136 at 8:25 a.m. Monday causing power-lines to be overturned and closing the busy Hwy. for seven hours and 36 minutes.
Many were on scene to clean up the mess and help motorists get on their way. No injuries were reported.