Liberal's Stuff the Bus Accepting Donations
KSCB News - July 24, 2015 1:54 pm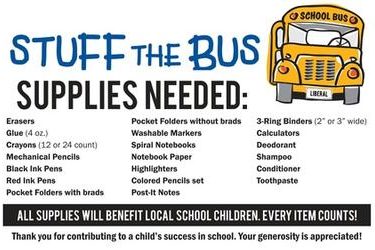 Liberal's "Stuff the Bus" school supply drive is now taking supply donations at several locations throughout town to benefit children in our community.
Items needed most include:
• Erasers
• Glue (4 oz.)
• Mechanical Pencils
• Black Ink Pens
• Red Ink Pens
• Pocket Folders with brads
• Pocket Folders without brads
• Washable Markers
• Spiral Notebooks
• Notebook Paper
• Highlighters
• Colored Pencil sets
• Post-It Notes
• 3-Ring Binders (2" and 3" sizes)
• Calculators
• Deodorant
• Shampoo
• Conditioner
• Toothpaste
Donations can be taken to the following businesses now through the beginning of the school year: Wal-Mart, Dillon's, Walgreens, Southern Office Supply, Spencer Browne's Coffee House, and Chrystler Corner.
The "Stuff the Bus" donation drive has been organized by volunteers from the Seward County United Way, Kansas Children's Service League, Bright Futures Liberal, Liberal Area Coalition for Families, Southwest Medical Center, USD 480, Liberal Young Professionals, Southern Office Supply, Seward County WIC office, and Jury, Farrar and Associates.
Every item benefits children in our community and every item counts!