Liberal Softball Sweeps Scott City
KSCB News - April 6, 2013 7:14 am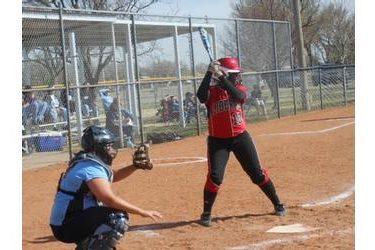 Liberal High swept at softball double header over Scott City on a dusty and windy day at the Liberal Softball Complex Friday. The Redskins won 11-5 and 13-3 in six innings.
In game one, LHS won despite Scott City out-hitting LHS 8-4. But the Lady Beavers made five errors and left 11 runners on base. The Lady Skins broke open a 4-4 tie with seven runs in the sixth. Kaitlyn Ralston slammed an inside the park homerun to right and Micah Hasik was 1-3 with two RBI's in the win. Jaycee Darroch pitched five innings for the win and did not allow an earned run. Brittany Granger pitched two innings.
In game two, LHS scored in every inning. Liberal scored one in the first, two in the second, one in the third, two in the fourth, four in the fifth, and three in the sixth. Jaycee Darroch was 4-4 with a triple and three RBI's. Cynthia Cisneros was 3-3 with an RBI and Riley Hay was 3-5 with two RBI's. Stephanie Sanchez was 2-2 with an RBI. Granger pitched five innings for the win and Darroch pitched two scoreless innings.
LHS is 5-1 and Scott City is 0-6. Liberal plays at Great Bend Tuesday.