Liberal Sets NBC Record in Win
KSCB News - July 27, 2015 6:36 am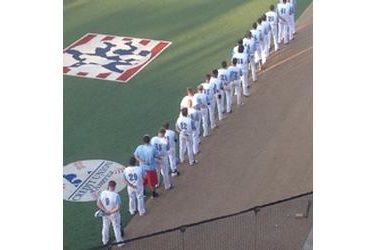 The Liberal Bee Jays scored 29 runs in an NBC game in 1982 which is a record. Sunday night at Lawrence Dumont Stadium, Liberal set another record. They scored the most runs in the wooden bat era in an NBC game in a 23-2 win over the Cape Girardeau Capahas. The wooden bat era began in 2000.
The Bee Jays scored on in the first as Brent Williams drove home Gavin Wehby who reached on an error to begin the game. The Capahas countered with a run in the first against BJ starter Kadon Simmons. Liberal scored four in the second. Sherley drove home a run on a fielder's choice before a sac fly by Wehby. Williams singled home two more runs with two outs. Luke Sherley's two out two RBI single in the third made it 7-1. Then all heck broke loose in the fourth as the Bee Jays plated 13 runs on five hits, thee Capaha errors, three walks, and two beanballs. Cale O'Donnell belted a grand slam off the scoreboard. Brody Miller and Gavin Wehby provided RBI doubles while Nick Brooks singled home a run. Ten of the 13 runs came with two outs. Brooks provided another RBI single in the fifth and Cox doubled home two to lead 23-2. Simmons pitched four strong innings to be 4-0.
Liberal has won eight straight and is 30-16. They face the Wellington Heat Tuesday night at the NBC World Series in 1270 and kscbnews.net.