Liberal Police Investigate Aggravated Assault
KSCB News - June 17, 2010 12:00 am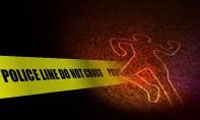 On Wednesday, June 16, 2010 at about 1:53 p.m., officers responded to the 900 block of South Grant regarding a domestic dispute. Responding officers were informed enroute to the call that the suspect had left the scene.
Investigating officers learned that a 23 year old woman had been battered by her 19 year old roommate. The woman also alleged the man produced a knife while communicating a threat.
Officers from the Liberal Police Department and Seward County Sherif s Office quickly set up a perimeter around the area, including the Southgate Mall. The police departmen s K-9 unit responded to attempt a track of the subject. The subject was not located in the immediate area.
The subject has been identified by witnesses as Antahj Samelle Jenkins. Jenkins is black male, approximately 6 feet 5 inches tall and weighing approximately 260 pounds.
Anyone with information regarding the whereabouts of Jenkins is asked to call the Liberal Police Department at 626-0150 or the Crime Hotline at 624-4000.