Liberal Girls Blank Great Bend
KSCB News - April 12, 2013 6:50 am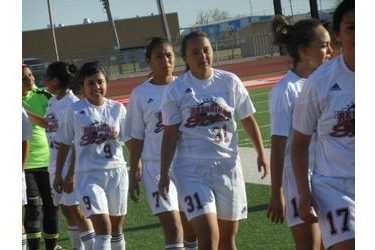 The Liberal girls soccer team played at home for the first time since March 19 and made it count Thursday. Liberal blanked Great Bend 5-0 for the season sweep and their third win over the Panthers. Liberal led 3-0 at the half in route to the blowout win.
Freshman Carolina Limon scored Liberal's first goal with an assist from junior Crystal Vela at the 29:27 mark. Vela scored into the south goal at the 24:40 mark. A Great Bend defender scored into their own goal at the 19:18 mark. In the second half, senior Joanna Campos scored thanks to an assist from junior Amelia Juarez. Freshman Jasmine Chacon scored Liberal's last goal at the 28:03 mark.
Liberal is 4-3 and 2-1 in the WAC and plays at Dodge City Monday.