LHS Tennis Experiences Success and Defeat on Trip
KSCB News - April 29, 2013 6:41 am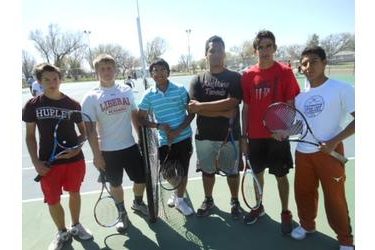 Varsity Tennis Results from Colby and Emporia
The Liberal Redskin Tennis Team gets its first taste of success at the Colby Varsity Invitational on April 26 th . Liberal's team took 1 st Place honors with 25 points in a field that included Hays, Colby, Ulysses, Scott City, Trego, and Russell. Hays finished second with 24 points, and Colby placed third with 23 team points. All LHS players contributed the team's success.
Individual Results:
#1 Singles—Joseph Cotto went 2-1 earning a 3 rd Place medal
#2 Singles—Mitchell Irby dominated opponents going 3-0 taking 1 st Place honors.
#1 Doubles—Angel Hernandez/Buddy Buchanan went 2-1 finishing in 4 th Place.
#2 Doubles—Payton Grant and Sergio Borjas went 2-1 earning a 3 rd Place medal.
Emporia High Tennis Varsity Meet
The Redskins didn't fair as well against the elevated eastern schools of Kansas. Salina Central took 1 st Place team honors followed by Great Bend, Emporia, and Andover. Most LHS players failed to win a match today, but Freshman Mitchell Irby upset some Senior varsity players from Emporia, Great Bend, and Andover. Irby went 3-1 on the day bringing home a 2 nd Place medal.