Leoti Man Charged In Wife's Death
KSCB News - March 25, 2010 12:00 am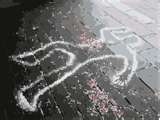 A Leoti man has been charged with
first-degree murder in the shooting death of his ex-wife.
The Kansas Attorney General's office says 44-year-old Todd D.
Schumacher was charged Wednesday in the death of Ann K. Schumacher.
He also is charged with two counts of aggravated child
endangerment.
Ann Schumacher was found dead in a home Tuesday. Her ex-husband
is being held on $1 million bond.
—