Legacy Five To Perform In Liberal
KSCB News - October 19, 2009 12:00 am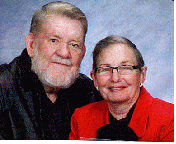 Join First Southern Baptist Church in Liberal for the award-winning Legacy Five, Tuesday, October 20, 2009 at 7 PM
Admission if free and a love offering will be taken.
When the Legendary Cathedral Quartet retired in December of 1999, Scott Fowler and Roger Bennett decided to continue the rich musical tradition of Southern Gospel Quartet singing. Legacy Five was organized and had their official debut in January 2000 in Atlanta, Georgia
.
Legacy Five has enjoyed more success in their short career than many groups experience in decades. Year after year they are recognized as one of Gospel musicź??s favorite. The Southern Gospel Music Association honored Legacy Five with Recording of the year and they have had 2 Dove Award nominations. They have 13 recordings including one with the prestigious London Philharmonic Orchestra. In September, 2004, the readers of the Singing News Magazine gave Legacy Five awards including Favorite Male Quartet. Legacy Five was the most awarded quartet at the National Quartet Convention in 2004.
Legacy Five has been featured on numerous video tapings of the Gaither and friends Homecoming Video series, which has sold multiple millions of copies worldwide. They have also appeared on In Touch, with Dr. Charles Stanley, as well as In Touch Ministriesź?? sponsored cruises. Viewers across America have seen Legacy Five on TNN, TBN, Sky Angel, INSP, GMT, The Odyssey Network and a host of local channels.
The rich four and five part harmony that Legacy Five has become noted for are the result of a masterful weaving together of five unique and versatile talents. Glenn Dustin sings the bass, Scott Howard sings the baritone, Scott Fowler sings the lead and Frank Seamans sings the tenor. After Roger Bennettź??s death on March 17, 2007 from complications associated with Leukemia, Tim Parton joined Legacy Five as pianist.
Some 150 times a year, Legacy Five presents Gospel music in a way that has endeared them to audiences all across the United States and Canada.