Leavenworth Co. Woman Claims Lottery Jackpot
KSCB News - April 29, 2010 12:00 am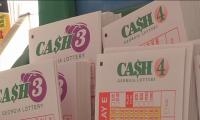 Usually when a wife tells her husband, Honey, w ve got to talk it does t bode well for the husband. It was quite the opposite, however, for a Leavenworth County man when his 55-year-old wife whispered that in his ear last night. What she needed to talk to him about was the $756,399 jackpot she had won in the April 28 Super Kansas Cash drawing!
Tha s when she went to her sleeping husband and woke him up, saying, Honey, w ve got to talk And what a story she had.
When the winner went into the store yesterday to purchase a Super Kansas Cash ticket for that nigh s drawing, the clerk accidentally printed a Powerball ticket instead. Thinking the accident might be lucky, she bought the Powerball ticket printed in error, and then asked the clerk to print the $5 Quick Pick Super Kansas Cash ticket she had asked for originally.
The winning numbers in the April 28 drawing were 03-08-23-27-28 Cashball 06. The lucky ticket was sold at QuikTrip 235, located at 11065 Pflumm Road in Lenexa. For selling the jackpot-winning Super Kansas Cash ticket, the store is eligible for a $1,000 selling bonus.
The winners, who have three children, are undecided how they will spend their prize money. After federal taxes of $189,100 and state taxes of $37,820 are withheld, they will receive a check for $529,479.
The best advice the jackpot winner has for other players trying to hit it big is this: You just have to think lucky Be positive and be persistent
The Super Kansas Cash jackpot returns to $100,000 for Saturda s drawing.