Lady Saints Survive Power Plant
Brock Kappelmann - November 17, 2016 7:02 am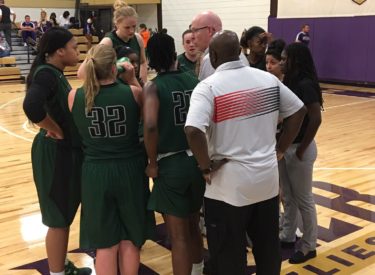 Mollie Mounsey scored 25 and the #20 Seward Lady Saints won a rugged KJCCC matchup Wednesday night.  Seward won at the Power Plant in El Dorado 61-58 over the Butler Lady Grizzlies.  Seward has won 30 of the last 32 in the series.
Seward led 16-8 and led 18-11 after one quarter thanks to Mounsey hot start.  But Seward went in the deep freeze in the second quarter despite temperatures in the 80's on this mid November day.  Seward was 1-12 in the second quarter and scored three points as Butler raced into the halftime locker room with a 28-21 lead.  Seward rallied as their energy picked up defensively in the third quarter.  The game was tied 40-40 after three.  The Lady Saints built a 53-44 lead and led 53-48 wi8th 2:49 to play.  Seward led 56-51 with a little over a minute to play before Butler hit a three to tie it at 56-56.  Mounsey broke the tie with a three at the top of the key.  She nailed six three pointers on the night.  Clitan de Sousa added 17 for the Lady Saints. Seward survived on a night when they shot 32 percent and made just 11 of 19 at the free throw line.  But Seward held Butler to 32 percent from the field.
Seward is 4-0 and 2-0 in the Jayhawk with key wins over Hutchinson and at Butler under their belts.  Butler, who was playing at the Power Plant for the first time due to a pair of late summer floods, is 3-2 and 0-2.  Seward hosts Cloud Saturday night at 6 in the Green House with coverage at 5:45 on B107.5 and kscbnews.net.  Conestoga is the buyout sponsor with tickets at Hutch's and Pizza Hut.