Lady Saints Notch Best Nationals Finish in History with 5th Place Showing
Joe Denoyer - May 11, 2017 4:32 pm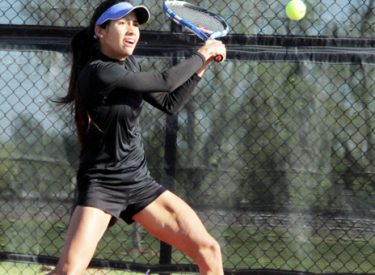 The Seward County Lady Saints finished up their best season in school history on Wednesday, wrapping up a 5th place finish at the NJCAA National Tournament, making it back to back school records after finishing 7th a year ago.
Unfortunately, Wednesday didn't start as planned for the Lady Saints as Thalita Rodrigues dropped her semifinal match 6-3, 6-0 to 3rd ranked Ceire Mullins of Hillsborough to end her Seward career with a 3rd place finish in the tournament's top draw. 
Sarah Manseri suffered the same fate in eerily the same fashion in the #2 bracket, falling 6-3, 6-0 to Emily Chang of ASA to net her a 3rd place finish during her rookie year. 
One half of the semifinal in the #4 singles draw pitted Seward's Steffany Bermudez up against Broward's Bianca Vitale in a key matchup in the tournament standings.  Vitale controlled the match, winning the first 6-3 and breezing to a 6-1 win in the second to take the match 2-0 and forcing Bermudez to settle for a 3rd place finish.
Seward's lone win of the day came in the #6 backdraw where Fernanda Santana blanked Kelsea Baksh of North Central Texas 8-0 to claim the consolation bracket championship. 
The last Lady Saints doubles remaining on day four was Manseri and Bermudez at #2.  The pair never got their footing against St. Petersburg, dropping a 6-2, 6-0 decision in the semis to end their tournament run in 3rd place.
Seward finishes the tournament with 30 points, clinching a 5th place finish with one day to go.  Tyler continues to lead the way with 45 points while ASA Miami is right on their heels with 44.  St. Petersburg and Broward both broke a three way tie with Seward Wednesday as the Titans rose to third with 32 points and the Seahawks fourth with 31.  Fellow Jayhawk Conference member Barton remains in the top 10 with 21 points while Cowley finishes 11th with 19.5.