Lady Saints May have Lost More than a Game
KSCB News - January 29, 2015 6:49 am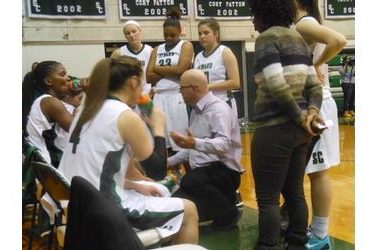 Seward led the number one ranked team by one 61-60with 30 seconds left. Kyndal Davis had just connected on two clutch free throws. Top ranked Hutch missed a shot and a loose ball hopped tantalizingly around the Green House floor in what seemed like slow motion. In the play Seward's leading scorer and rebounder had her knee buckled under in a pile. She had to leave the game. Hutch was fouled and their sure fire All American Kelani Purcell nailed two free throws to give Hutch a 62-61 lead. Seward had the ball with just under four seconds left and Rebekah Hatchard sped up the court but her game winning lay up attempt fell off and Hutch had escaped. Now Lady Saints fans, players, and officials wait to find out how severe Seda's knee injury might be.
Hutch flexed their muscles early taking a 29-13 lead but Seward would bounce back to make it 35-26 Hutch at the half. Seward quickly went to work in the second half cutting the HCC lead to two twice at 37-35 and 39-37. The Lady Dragons lead ballooned to 10 at 53-43 with 9:40 to play. Seward came back and led 56-53 with 5:50 to go. Seward led 56-55 with 4:40 to go. A Daniela Galindo three pointer gave the Lady Saints a 59-58 lead before Kelani Purcell made a guarded right elbow jumper to give the Lady Dragons a 60-59 lead with 1:13 to play. Kyndal Davis made two free throws with 30 second left to give Seward the one point lead.
The Lady Dragons out rebounded Seward 52-26 but Seward's full court pressure defense forced 21 HCC turnovers. Davis led Seward with 19 points and Axelle Bernard scored 13 and Daniela Galindo scored 12.
The Lady Dragons defeat the Lady Saints for the 11th straight time and fifth straight time in the Green House. Seward is 18-2 and 6-1 and Hutch is 22-0 and 8-0. Seward hosts Barton Saturday at 6 on B107.5 and kscbnews.net. Ruffino's and Hampton Inn are the buyout sponsors. The Lady Saints will be featured during the Green Line at 6 on 1270 live from Billy's at Ayr Lanes.