Labette Too Much for Lady Saints in Title Game
KSCB News - March 8, 2010 12:00 am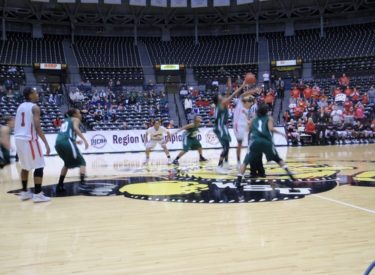 The Seward County Lady Saints run at the National Tournament fell short on Monday at Koch Arena in Wichita as Labette beat Seward for a second time this year with a 54-49 victory.
Seward started slow as the Lady Cardinals went on a 15-0 run early and led the Lady Saints 28-19 at halftime. Seward did rally to cut the deficit to just one late in the game, but Labette was able to hold off the Lady Saints rally attemp in the final minute. Seward was outrebounded 49-34 and the Lady Saints were just 1-10 from three.
Seward drops to 5-5 all-time in Region VI Title games. Rachel Barnes, Megan Lassley, and Vaneza Junior were named to the All-Region VI team. The Lady Saints finish their season with a 31-3 record.