Krueger Saves Best for Last in Pancake Day Race
KSCB News - February 21, 2012 12:57 pm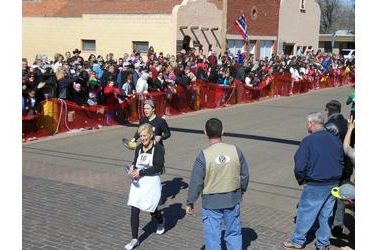 Liberal's Kaela Krueger won Liberal's wing of the 63rd International Pancake Day Race. But Olney's Devon Byrne blazed a trail to the International title of 2012 winning the race in 58.5. Krueger ran the race in 68.6 seconds. This breaks a five race streak for Liberal in the friendly series between Liberal, U.S.A. and Olney, England every Shrove Tuesday.
Krueger, who ran the race last year as Miss Liberal saved her best for last. Patty Rutledge led most of the way but couldn't hold off the hard charging Krueger in the end. Leslie Spikes took third.
Krueger (19) is a student and member of the spirit squad at SCCC/ATS and 2011 Liberal High School graduate. Rutledge is 44 and works at First National Bank. This was her fourth time in the race. Leslie Spikes (29) is a Hugoton native and district conservationist with two kids. This was her first Pancake Day Race.
Olney's Devon Byrne ran the race in 58.5 which ties an Olney record and is the third best time ever. The 18-year old's mother Leslie Byrne won the race in 1988, 1989, and 1993. Byrne joins Liberal's Sheila Turner (1976) and Olney's Natalie Thomas (1998) with the third best times. The late Lisa Spillman ran the race in 58.1 in 2001 and Tosha Gallegos set the standard at 57.5 in 2009.
The weather in Liberal at race time was sunny, 45 degrees and light winds.
Liberal now leads the series 36-26-1.