KDHE Gets More Public Input On Holcomb Plant
KSCB News - August 3, 2010 12:00 am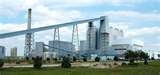 Several hundred people turned out to both oppose and support a permit for a proposed coal-fired electricity plant in southwest Kansas.
The Kansas Department of Health and Environment held a public hearing Monday in Overland Park to gather public comment about a proposal from Sunflower Electric Power Corp. to build a $3 billion coal-fired plant in Holcomb.
Supporters of the plant said it would be an economic boost to the area and provide needed jobs. Opponents said coal-fired plants cause too much pollution, and the state should be pursuing alternative energy projects.
The Topeka Capital-Journal reports that similar hearings are scheduled Wednesday in Salina and Thursday in Garden City. A fourth meeting is possible, but a date hasn't been set.