Kansas Wheat Stocks At Decade High Levels
KSCB News - June 30, 2010 12:00 am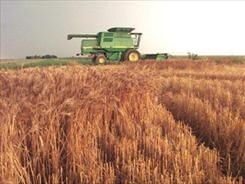 A new report on carry-over wheat stocks languishing in Kansas elevators is sobering news for growers struggling with low grain prices.
Kansas Agricultural Statistics Service on Wednesday reported wheat stocks of 158.6 million bushels as of June 1 – before this year's harvest got under way.
It's the largest amount of wheat stocks for this time of a year in a decade, and 95 percent higher than last June's figure.
The report also shows Kansas farmers planted more acres of corn this spring than at any time since 1936. The agency says the 4.7 million corn acres are up 15 percent over last year.
Soybean plantings in Kansas this year broke a record with 4.1 million acres seeded, up 11 percent from a year ago.
Planted sorghum acreage was down 11 percent to 2.4 million acres.