Kansas Corn Crop Continues To Decline
KSCB News - August 9, 2011 8:07 am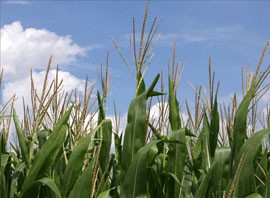 A new report says last week's rain helped
some Kansas crops but came too late to improve the condition of
others.
In its weekly updated, Kansas Agricultural Statistics Service
reported Monday that about 41 percent of the corn crop is in poor
to very poor condition. About 26 percent was rated fair, with 27
percent in good condition and just 6 percent in excellent shape.
Soybean condition declined slightly over the week, with 41
percent of the crop now in poor to very poor condition. About 30
percent is in fair shape, with 25 percent rated good and 4 percent
in excellent condition.
The rain did help the sorghum crop. The agency says 39 percent
of the crop is now rated poor, slightly better than a week ago.