Kansas, Colorado End Litigation Over Arkansas River Water
KSCB News - August 4, 2009 12:00 am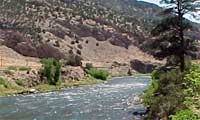 The States of Kansas and Colorado made a joint filing today with the U.S. Supreme Court that will end the Courtź??s active consideration of Kansas v. Colorado involving waters of the Arkansas River, officially ending a case that has spanned more than two decades.
The case is ending because the statesź?? chief water officialsź??Chief Engineer David Barfield in Kansas and State Engineer Dick Wolfe in Coloradoź??have reached agreement on the final technical issues pending in the case. The agreement specifies how Coloradoź??s replacement requirements will be evaluated in order to maintain compliance with the Arkansas River Compact.
Kansas filed suit against Colorado in 1985, when Bob Stephan was attorney general, John Carlin was governor and David Pope was chief engineer of Kansas. The case resulted in four opinions of the U.S. Supreme Court. Among other things, the Court approved a complex computer program to calculate water depletions in Colorado, and the Court also required Colorado to pay $34 million in damages to Kansas for past overuse of water.
The Kansas-Colorado Arkansas River Compact was negotiated in 1948 between the States of Kansas and Colorado with participation by the federal government. Its stated purposes are to settle existing disputes and remove causes of future controversy between the States of Colorado and Kansas concerning the waters of the Arkansas River and to equitably divide and apportion between the states of Colorado and Kansas the waters of the Arkansas River as well as the benefits arising from John Martin Reservoir.