Kan. Winter Wheat Crop Progress Lags Behind
KSCB News - April 27, 2010 12:00 am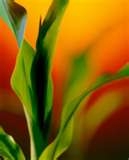 A new report shows the Kansas winter wheat
crop in good shape but progressing slightly behind the normal rate
for late April.
Kansas Agricultural Statistics Service reported Monday just that
1 percent of the wheat has headed, compared with an average of
about 8 percent.
The crop condition report is mostly upbeat in the wake of rain
last week. The report rates the wheat condition as 14 percent
excellent and 59 percent good. About 23 percent was in fair
condition with just 4 percent in poor to very poor shape.