Jones Makes All Region List
KSCB News - March 10, 2011 6:52 am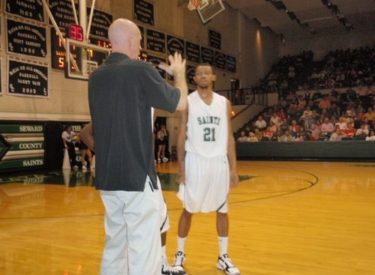 After leading Seward County to their 2nd Region VI Title
Game in four years, Jeremy Jones, Marky Nolen, and Rafriel Guthrie have
all been named as 2011 NJCAA All-Region VI performers. Jones was the
Saints lone 1st Team selection after he led the Jayhawk West in scoring
this season at nearly 20 points per game and finished the overall
2010-2011 season averaging just a shade under 19 points per game. He
finishes the season 7th in the region in scoring, 6th in assists, 6th in
free throws made, and 7th in three pointers made. Nolen was the top
selection on the 2nd Team after finishing as one of just three players
to average a double-double in conference play (the other two, first team
selections) and finishing the season averaging 11.9 points and 8.5
rebounds per game. The sophomore forward put together a stretch of 8
straight double doubles during the season and goes down as the school's
5th All-Time leading rebounder at just 6'2. Rafriel Guthrie was an
Honorable Mention choice after a freshman season in which he averaged 13
points and 4.4 rebounds per game. Guthrie was one of just 8 freshman
out of the 29 players selected as he proved late in the season to be one
of the most well rounded first year players in the conference. He
finished in the top 3 in points, rebounds, and steals for Seward while
playing in all 34 games.