Jerry Moran to Visit Southwest Kansas
KSCB News - August 10, 2009 12:00 am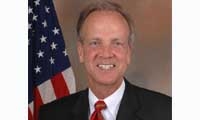 Congressman Jerry Moran will visit Southwest Kansas this month during his annual Listening Tour. Moran is visiting communities in each of the 69 counties of the First Congressional District.
Jerry Moran will first stop in Morton County in Elkhart at 7:30am on August the 18th at the Morton County Civic Center. He will be there until 8:30am and then will move to Stevens County where he will speak at Common Grounds in Hugoton from 9:15am – 10:15am
Moran will then come to Liberal at the Chamber of Commerce, 4 Rock Island Road, from 11:00 a.m. to 12:00 p.m. CST, on Tuesday, August 18, 2009, for his Seward County Town Hall tour stop. Area residents are invited to attend.
The issues Moran focuses on and the work he does in Washington, D.C., is based on what he learns in the conversations he has with Kansans during his tour stops.