Jerrod Niemann Follows #1 Album With #1 Single
KSCB News - August 3, 2010 12:00 am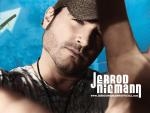 2010 ??s Only Male Artist to Debut at #1 on Billboard ??s Top Country Albums Chart Scores His First Smash from Judge Jerrod & The Hung Jury
Love is all around this week for Sea Gayle/Arista Nashville recording artist Jerrod Niemann, whose smash single, ??Lover, Lover, ? hits #1 on the Billboard and Country Aircheck charts, becoming the first #1 single of his career and the first #1 smash from his recently released #1-debuting country album, Judge Jerrod & The Hung Jury.
Having co-produced the album with Dave Brainard, Niemann finds the success of the album and single particularly rewarding on a creative level, and for someone who has long been paying his dues in Nashville, the timing of the #1 single also marks an anniversary of sorts for Jerrod.
Niemann shares, ??It ??s pretty weird to have a song go #1 ten years after the day you set foot in Nashville to visit. But at the end of the day, I ??m just happy to have anything out there on the radio, and the most exciting thing for me is actually being able to step on stage and people be there to cheer you on, and then ?? of course, when we sing ??Lover, Lover ?? ?? to sing along. There ??s no other word to describe it than ??amazing. ?? ?
Released on July 13, Judge Jerrod & The Hung Jury debuted as the #1 country album in the nation, with first-week sales approaching 34,000 copies, according to Nielsen SoundScan, breaking Lady Antebellum ??s six-month streak atop Billboard ??s Top Country Albums chart. Only the second country album to debut at #1 this year and the first by any male country artist in that time, Judge Jerrod & The Hung Jury is one of only three albums in 2010 to earn the #1 spot on Billboard ??s Top Country Albums chart.
Not since Carrie Underwood ??s 2005 album debut has a solo country artist achieved the double feat of earning one or more #1 singles from a major label debut album that also hit #1 in its first week on Billboard ??s Top Country Albums chart.
Heralded as ??a gentleman outlaw ? by The New York Times, Niemann continues to garner critical acclaim for his major label debut, with praise from such outlets as USA Today, People, the Boston Herald, Country Weekly, Roughstock.com, and more.
Amid a busy schedule, Jerrod will hit the road beginning next month with headliner Gary Allan and Jerrod ??s good friend, Randy Houser, on Allan ??s ??Get Off on the Pain Tour. ?