It's Signing Time at Seward
KSCB News - April 17, 2013 3:18 pm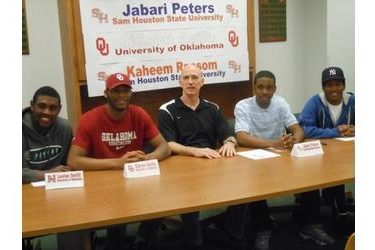 Four Seward County Saints signed to play division one basketball Wednesday afternoon in the All American Room at SCCC/ATS. Leslee Smith stayed true to his verbal commitment to Nebraska while teammates Edson Avila signed at Oklahoma while Kaheem Ransom and Jabari Peters signed at Sam Houston State.
Avila, the 6'10" post from the Bronx, New York averaged 11 points and six rebounds per game for the 25-8 Jayhawk West champion Saints. He shot 58 percent from the field. He averaged six points and five rebounds per game as a freshman. The first team all Region 6 Avila picks the Sooners who were 20-12 and made the NCAA Tournament under second year head coach Lon Kruger. Avila picked the Sooners over Memphis, Oklahoma State, and Gonzaga.
Ransom picks Sam Houston State after finishing as Seward's second all time leading scorer from the state of Kansas. The 6′ Wichita Southeast guard averaged 16.5 points per game to lead the Saints after averaging 13 points and five rebounds as a freshman. The honorable mention all American was first team all Region 6 and first team all Jayhawk West. He and Avila helped the Saints win two Jayhawk West titles, a Region 6 title, and a third place finish at the NJCAA Tournament.
Jabari Peters joins Ransom at SHSU. The 6'4" Texas Southern transfer from Brooklyn, New York averaged 13 points per game and became a defensive stopper for Seward. He picked Sam Houston over Canisius, Quinnipiac, and Texas Arlington. He and Ransom join coach Jason Hooten at the Southland Conference school which went 17-17 last year.
Leslee Smith picked Nebraska over St. Louis and West Virginia after tranferring to Seward from SMU. The 6'8" 260 pound Smith averaged eight points and seven rebounds per game for the Saints. The Longlook, British Virgin Islands averaged four points and three rebounds per game as a freshman at SMU. He joins former Saint Deverell Biggs at Nebraska who went 15-18 this season under Tim Miles.
Tune in for the Sportsguys Thursday morning to hear interviews from the players and Seward head coach Bryan Zollinger.