It's Jarnagin Again and Again in Ulysses Rout
KSCB News - September 3, 2011 1:31 am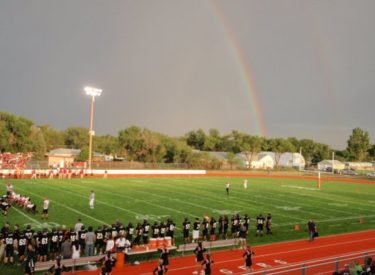 On a night which moved along slowly, Ulysses senior Josh Jarnagin was anything but that. He scored five touchdowns in another Ulysses win over Liberal 42-20 Friday night at Maxwell Field in Ulysses. The game was plagued by a 30 minute weather delay to start the game and a lightning delay of over an hour after the first quarter. It's the fifth win in six tries in the 2000's against Liberal.
Jarnagin returned the opening kickoff of the season 90 yards for a touchdown. Liberal responded on special teams six minutes later when Jarnagin fumbled a kickoff return and Liberal's Trenton Hammond scooped up the ball and ran 40 yards for a touchdown. Britton Abbott found Hammond over the middle and Hammond did the rest for a 53 yard touchdown to give Liberal a 14-6 lead with 2:38 remaining in the first quarter.
Ulysses quarterback Braden Langston found Chase Newel for a 71 yard touchdown with 2:24 to play in the quarter. Langston was 8-16 for 208 yards. Ulysses converted the two point conversion to tie the game at 14 at the end of one quarter.
After the delay, Jarnegin's 45 yard punt return for a score and his three yard TD run with 5.5 seconds remaining in the first half made it 28-14 Tigers at halftime.
Jarnegin cut right and then left to go untouched for a 25 yard TD to make it 35-14. He added a three yard TD run after a Britton Abbott one yard score in the fourth quarter. Jarnagin had 97 rushing yards as the Tigers put up 409 yards and held Liberal to 197 yards.
Liberal plays at home against Guymon Friday at Redskin Field and Ulysses hosts Goodland.