It's Hays in a Heartbreaker
KSCB News - April 10, 2014 4:47 pm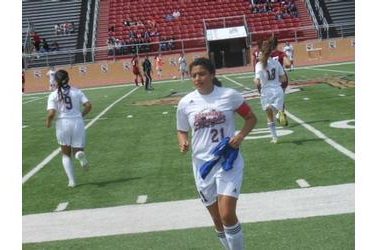 Hays scored with 25.8 second left in double overtime to beat Liberal 4-3 at Redskin Field. The game was 25.8 seconds away from finishing as a tie.
Liberal had the wind at their back in the first half and Caro Limon picked up where she left off against Great Bend on Tuesday by scoring into the south goal to make it 1-0 at the 14:06 mark of the first half. Limon wasted little time in the second half scoring at the 37:38 thanks to an assist from Kelly Ramirez. Hays, who won the WAC last year, quickly tied the game with goals at the 36:13 and 32:03 marks. Liberal's Monica Aquino scored on a corner kick with 8:48 to play to give Liberal a 3-2 lead. Hays tied the game 3-3 with 2:06 to play. The game went to a 10 minute overtime session without either team scoring. It appeared the two teams were headed for a tie when Hays was fouled just outside the penalty box. Hays scored the winning goal on a penalty kick with 25.8 second left.
Liberal is 3-3 and 1-1 in the WAC while Hays is 4-2 and 2-0 in the WAC.