Injury Accident Sends One Victim To Wichita
KSCB News - August 10, 2009 12:00 am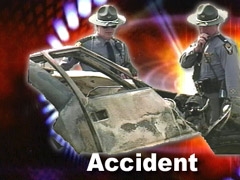 A two vehicle accident occurred Sunday afternoon 3 and 1/10 miles east of Hooker Oklahoma. A 2001 Chevy Suburban being driven by 52 year old Dale Schuerman of Liberal, was travelling east on Highway 54 when he drifted left of center and stuck the back dual tires of a 2004 Peterbilt semi being driven by Jason Ploog, 35, of Dalhart Texas. Schuerman was pinned in his vehicle for approximately 45 minutes. He was taken to Southwest Medical Center, then airlifted to Wesley Medical Center in Wichita with head, leg and trunk internal injuries. He was listed in stable condition.
A passenger in the Schuerman vehicle, 17 year old Brooke Schuermann was taken to Southwest medical Center, was treated and released. Jason Ploog was not injured.
Seatbelts were in use in both vehicle. This accident was investigated by Trooper Michael Eckhardt, of the Beaver Detachment, assisted by Trooper Eric Brown, Trooper Ryan Williams, Trooper Trey Sheets, the Texas County Sheriff's Office, and the Hooker and Seward County EMS.