Hooker Masonic Lodge Hosts First Hooker Oklahoma Open 4d Barrel Race
KSCB News - October 7, 2009 12:00 am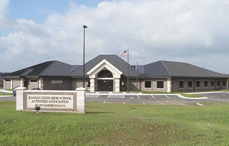 Saturday Oct. 3rd 2009 proved to be a perfect day for Barrel Racing in Hooker Oklahoma.
The parking lot overflowed with pickups pulling horse trailers with barrel racing horses and 89 riders who are entered are will be entering this race.
Entries show 32 are members of Better Barrel Races who endorsed the race, others failed to have their BBR numbers recorded or were not members, and 13 who are under 18 years of age.
Barrel Racers came from four states, and some drove over 150 miles to get here. Several commented that this was a very good race, and how lucky Hooker was to have the Pickard Arena located here.
Four places were paid in each division with the four winners in 1d paid $924.00, 2d $792.00, 3d $528.00, and 4d $396.00
Seventeen people worked throughout the day to keep things running smoothly. There were 79 racers who ran exhibitions, and 89 runs for placement which is a rate of 40 runs per hour including dragging after every 6 runs. That is called a job well done.