Hinkle's Three's Push Liberal Past Spring Hill
KSCB News - January 22, 2015 6:17 am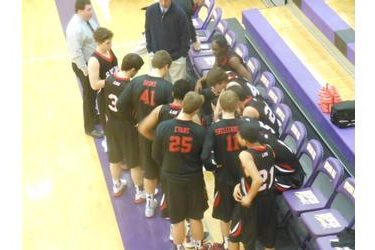 Liberal began the game 0-8 from three point range. But then Liberal's sophomore sharpshooter caught a spark. Trailing Spring Hill 33-27 late in the third quarter in Spring Hiil's home gym and in the opening round of the Spring Hill Invitational Tournament, Hinkle went to work. He connected on two three pointers to tie the game and all of a sudden give the Redskins some momentum. He added two more fourth quarter daggers as Liberal defeated the 4A Division 1 Spring Hill Broncos 43-40.
The Redskins trailed the Broncos 13-10 after one quarter and 25-22 at halftime. Liberal led 41-36 with 3:00 to go before holding on. With a three point lead in the closing seconds Liberal's Mershek Wiltshire made a key defensive play to tip a pass away from Spring Hil's top shooter Danny Hudge.
Hayden Coker owned the paint so much Spring Hill switched to a zone to pack around him. He tied his career high with 15 points. Hinkle scored 16.
Luberal is 6-3 equalling last year's win total. Spring Hill is 4-5. LHS plays Kansas City Sumner Thursday night at 6:30 on 1270 and kscbnews.net,