High Wind Warning Posted for Tuesday
KSCB News - April 28, 2014 6:09 am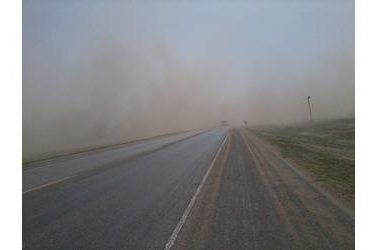 URGENT – WEATHER MESSAGE
NATIONAL WEATHER SERVICE DODGE CITY KS
1243 AM CDT TUE APR 29 2014
…STRONG NORTHWEST WINDS WILL PERSIST TODAY…
.AN UPPER LOW PRESSURE SYSTEM OVER SOUTHEASTERN NEBRASKA WILL MOVE
SLOWLY TODAY AND BE OVER IOWA BY TONIGHT. THERE WILL BE A TIGHT
PRESSURE GRADIENT ACROSS MOST OF WESTERN KANSAS TODAY, AND VERY
STRONG AND GUSTY WINDS WILL RESULT.
KSZ061-062-074-075-084-085-291600-
/O.UPG.KDDC.HW.A.0005.140429T1500Z-140430T0000Z/
/O.NEW.KDDC.HW.W.0008.140429T1500Z-140430T0100Z/
/O.CON.KDDC.WI.Y.0021.000000T0000Z-140429T1500Z/
HAMILTON-KEARNY-STANTON-GRANT-MORTON-STEVENS-
INCLUDING THE CITIES OF…SYRACUSE…LAKIN…DEERFIELD…
JOHNSON CITY…ULYSSES…ELKHART…RICHFIELD…HUGOTON…MOSCOW
1243 AM CDT TUE APR 29 2014 /1143 PM MDT MON APR 28 2014/
…WIND ADVISORY REMAINS IN EFFECT UNTIL 10 AM CDT /9 AM MDT/
THIS MORNING…
…HIGH WIND WARNING IN EFFECT FROM 10 AM CDT /9 AM MDT/ THIS
MORNING TO 8 PM CDT /7 PM MDT/ THIS EVENING…
THE NATIONAL WEATHER SERVICE IN DODGE CITY HAS ISSUED A HIGH WIND
WARNING…WHICH IS IN EFFECT FROM 10 AM CDT /9 AM MDT/ THIS
MORNING TO 8 PM CDT /7 PM MDT/ THIS EVENING. THE HIGH WIND WATCH
IS NO LONGER IN EFFECT.
* TIMING…THIS MORNING, WITH THE STRONGEST WINDS FROM MID-
MORNING THROUGH TUESDAY EVENING.
* WINDS…NORTH TO NORTHWEST AT 25 TO 35 MPH TONIGHT. NORTH AT 35
TO 45 MPH TUESDAY, WITH GUSTS TO 60 MPH.
* IMPACTS…DRIVERS SHOULD BE AWARE OF STRONG CROSSWINDS…
ESPECIALLY NEAR STRUCTURES SUCH AS GRAIN ELEVATORS. BLOWING DUST
MAY REDUCE VISIBILITIES AND MAKE DRIVING HAZARDOUS ADJACENT TO
OPEN FIELDS.
PRECAUTIONARY/PREPAREDNESS ACTIONS…
THE KANSAS DEPARTMENT OF HEALTH AND ENVIRONMENT…BUREAU OF
AIR…RECOMMENDS THAT YOU TAKE PREVENTATIVE MEASURES DUE TO
POSSIBLE HIGHER DUST CONCENTRATIONS DURING THIS HIGH WIND EVENT.
HIGHER LEVELS OF DUST CAN CAUSE RESPIRATORY PROBLEMS…DECREASE
LUNG ACTIVITY…AGGRAVATE ASTHMA…AND LEAD TO POTENTIAL HEART-
RELATED PROBLEMS…ESPECIALLY WITH CHILDREN…ELDERLY…OR THOSE
WITH PREEXISTING RESPIRATORY CONDITIONS.
A HIGH WIND WARNING MEANS A HAZARDOUS HIGH WIND EVENT IS EXPECTED
OR OCCURRING.
WINDS THIS STRONG CAN MAKE DRIVING DIFFICULT…ESPECIALLY FOR
HIGH PROFILE VEHICLES. USE EXTRA CAUTION.