High Speed Chase Leads Guymon Police Into Texas
KSCB News - June 17, 2010 12:00 am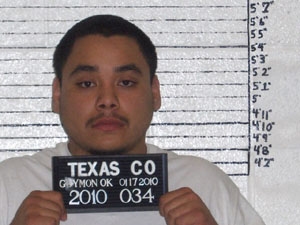 Suspect wanted in connection with a burglary lead Guymon Police on High Speed Chase into Texas
Christopher Torres of Guymon is facing multiple charges after leading Guymon Police on a chase that started in Guymon and ended near Sunray Texas
Guymon, Oklahoma, June 17, 2010- A suspect wanted in connection with an early morning burglary of Adolph's Convenience Store (06/16/2010) in Guymon fled from officers when they attempted to stop him on East Street around 4 PM yesterday. During the pursuit that ended nearly 70 miles away near Sunray Texas the suspect rammed one police car before finally being stopped and taken into custody.
Christopher Torres (21) of Guymon is facing charges in both Oklahoma and Texas as a result of his multi state pursuit. In Oklahoma he is facing eight (8) counts of Possession of Stolen Property after items taken from the convenience store burglary were found in his car as well as charges of eluding a police officer, operating a vehicle without a driver's license and multiple counts of disobeying a stop sign as well as one count of Commercial Burglary. In Texas he is facing a felony charge of Aggravated Assault on a Police Officer for deliberately striking one officers patrol vehicle as well as the charge of Evading Arrest by means of a Motor Vehicle.
The suspect is in jail in Sherman County Texas while extradition proceedings are commenced.