Guilty Plea In Garden City Teens Murder
KSCB News - June 30, 2011 8:33 am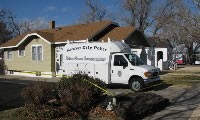 A Garden City man has pleaded guilty in the murder of a 16-year-old girl. Joaquin De Anda pleaded guilty to one count of premeditated first degree murder. Charges of rape and aggravated sodomy were dropped as part of the plea agreement.
De Anda admitted to killing Julia Quintana in December, 2008. Quintana's body was found in a trash bin behind De Anda's apartment in Garden City.
Prosecutors plan to argue for the Hard 50 sentence–50 years in prison with no chance for parole.
De Anda will undergo a mental evaluation at Larned before Sentencing.