Great Bend Wins WAC Tennis at Blue Bonnet
KSCB News - April 30, 2013 6:47 am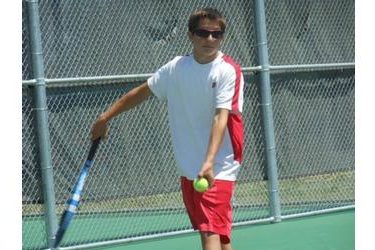 WAC Varsity Tennis Results
Great Bend dominated this tournament earning 1 st Place honors in all events scoring 16 points. Garden City took 2 nd Place in all events scoring 12 points. Dodge City took 3 rd place with 5 points followed by Hays with 4 and Liberal with 3 team points.
Individual Results:
#1 Singles—Joseph Cotto left it all on the courts diving for balls and has the scars on his legs to show for it. He went 1-3 on the day defeating Hays in his last match.
#2 Singles—Mitchell started off slowly but played hard and defeated Hays in his last match going 1-3 on the day.
#1 Doubles—Angel Hernandez/Buddy Buchanan won their first match against Dodge City in an exciting tie-breaker winning 8-7 (5). Then they dropped the next three matches.
#2 Doubles—Payton Grant/Sergio Borjas went 0-4 on the day but picked up valuable experience.
Coach of the Year Honors went to Great Bend's Coach Shannon Schartz
WAC Player of the Year went to Great Bend's Nick Moyers
The Redskins travel to Arkansas City for Regionals on Friday.