Great Bend Prolongs Liberal's WAC Woes
KSCB News - October 5, 2012 11:42 pm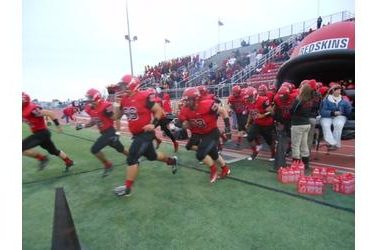 Great Bend grounded out Liberal 37-20 on a chilly Friday night at Redskin Field. The Panthers ran for over 400 yards in their 11th straight win over LHS. The loss also means Liberal has lost 18 consecutive Western Athletic Conference games.
Great Bend took their opening drive into the endzone after a two yard TD by Josh Lopez. Liberal's ensuing drive resulted in a four yard Britton Abbott touchdown to tie the game. William Ross then forced a fumble but Liberal's drive stalled and Great Bend got the ball back. But Tanner Urban forced another fumble and Mershek Wiltshire recovered. A four yard run by Chrystian Torres made it 14-7 after one quarter.
Bryce Hoffmeister's 64 yard TD run made the scored 21-14 with 6:32 to play in the first half. A Liberal bad snap over the punter's head resutled in a safety to make it 23-14 with 5:01 to go i nthe half.
Great Bend Johnny Allende ran in TD's of one and 10 yards in the third quarter to make it 37-14 after three quarters.
Abbott's 17 yard TD made the score 37-20. Liberal falls to 1-5 and 0-4 in the WAC. Great Bend is 5-1 and 2-1 in the WAC. It's Great Bend sixth straight win at Liberal.
Both teams struggled with penalties. Liberal's Trenton Hammond was ejected from the game and officials gave head coach Cliff Abbott a flag for unsportsmanlike conduct on the Redskin sideline. Great Bend struggled with penalties too having a 48 yards touchdown called back.
Great Bend had over 500 yards of offense holding the Skins to 263 yards.
Liberal opens district play at Goddard Friday night at 7 p.m. on Talkradio 1270 and kscbnews.net.