GCCC Lady Busters Bus Crashes On Way To Seward County For Game
KSCB News - January 22, 2015 8:02 am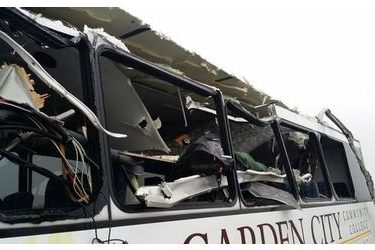 Garden City Community College's women's basketball team and coaching staff were involved in a motor vehicle accident late Wednesday afternoon en route to Liberal for their scheduled game against Seward County.
While no one was injured, GCCC women's head coach Nick Salazar said the accident left many of the 19 passengers on the Busters' activity bus rattled. It also led the two schools to decide not to play the game, which had been scheduled to tip off at 5:30 p.m.
"There were some cuts and and bruises…" Salazar said. "But mostly a lot of anxious players."
The accident occurred at 4:08 p.m. about 11 miles north of Liberal on U.S. Highway 83, according to a report from the Kansas Highway Patrol.
According to the KHP, a 2004 Peterbilt semi truck, driven by Raymon England, 52, of Foster, Okla., was northbound on U.S. 83. The GCCC activity bus, a 2012 Ford driven by Merle Henry, 67, was southbound.
According to the KHP, cargo from the trailer of the semi truck struck the top driver's side of the GCCC activity bus.
Both drivers were wearing seat belts, according to the KHP report.
The women's team, coaches and other GCCC members of the travel group, returned home on the college's other activity bus that had brought the men's team to Liberal. That bus then returned to Liberal to pickup the men's team to bring them back to Garden City.
The game has been rescheduled for 6 p.m. Feb. 2 in Liberal.